SCMS - Sublime Text CMS for Joomla, Wordpress
Posted by Seb T in blog on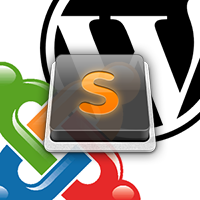 Available for Sublime Text versions 2 and 3!
Currently in development and due for release soon is our Sublime CMS extension. This plugin for the fabulous Sublime Text editor allows CMS administrators and site developers to take advantage of a professional text editing environment on Linux, Mac and Windows for working on both existing and new content within the CMS, bypassing the web-based CMS back-end.
Features of SCMS include:
Designed for site builders, web designers / developers, administrators and professional content editors. End users will typically prefer working through the familiar web-based CMS content editing environment.
Compatibility with Joomla 1.6+ and Wordpress 3.0+. Other CMS's to follow and support for custom MySQL/PHP based systems can be added by request - contact us for more info.
(Joomla) Allows editing of Articles and Custom HTML Modules
Integrates with Sublime's fuzzy search to quickly drill down to the category and post you want to edit.
Extremely fast. Bypassing the CMS back-end software altogether, SCMS talks directly to your CMS's database. Content can be chosen, loaded, edited and saved effortlessly in a fraction of the time it normally takes using the conventional web environment. A huge productivity boost for bulk editing.
Works with native HTML in a fast, productive text editor. Professional site-builders and editors prefer to work this way since WYSYWIG-style editors are slow to navigate, tend to produce poor markup and generally work counter-productively.
Further productivity gains and workflow streamlining through additional Sublime extensions such as Markdown
Requires site-developer (eg. FTP) access to install. SCMS bypasses the CMS system backend altogether and communicates directly with its own server module, a single file which must be placed in the site root or subdirectory.
Secure: SCMS' server side module communicates directly with the CMS configuration itself, so no user/password accounts are sent from the editor.
Features not available currently but on the roadmap subject to interest and financial support:
Facility to create new objects (articles and custom HTML in Joomla)
Facility to edit objects' meta-data (title, publish date etc.)
(longer term) Function to allow any non-standard tables within a CMS installation to be edited. For example when using third-party WP/Joomla extensions which may have their own tables containing HTML data. Simple configuration will be required in this case.
Once you've used SCMS for editing your Joomla or Wordpress content, you'll wonder how you got along without it!
Availability and license
SCMS is in on-going development and has reached beta status. Demos and screenshots to be made available shortly. Pricing is not fixed at present, but will likely be around £15 for the CMS type (currently Joomla and Wordpress), or £25 for both. Purchase grants support and updates for 1.x versions
An SCMS 1.x license allows you to use SCMS on 10 sites concurrently. An unlimited license can be made available by request.
Interested?
Please email us to add yourself to our SCMS mailing list. Feel free to ask questions or make suggestions along the way. We won't pass on your email address to anyone else and won't spam you (promise!). Or stay up to date by following us on twitter.